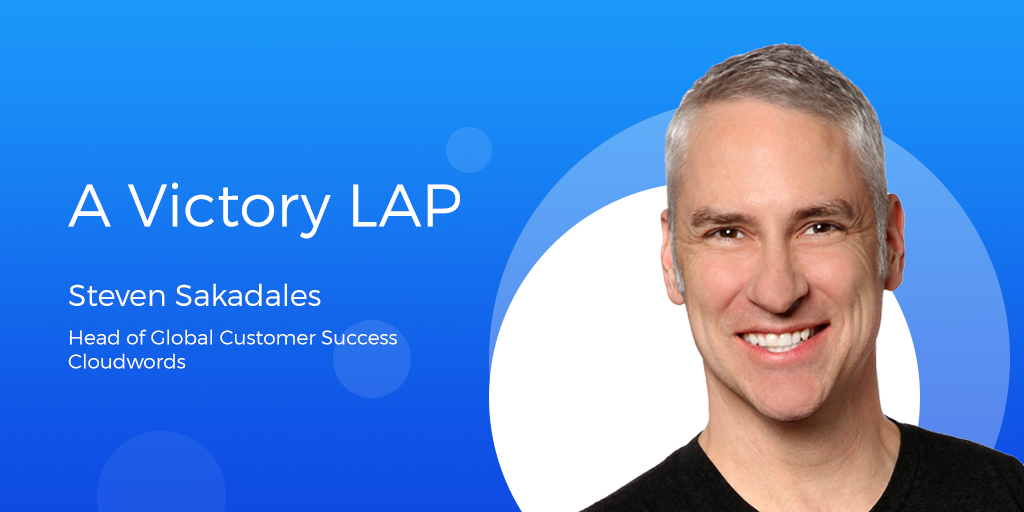 I am excited to be one month into my role as Global Head of Customer Success for Cloudwords...the world's only LAP (Localization Automation Platform). The Localization industry is quite foreign to me and it's comforting to find that some things are universal in the world of Automation SaaS. For instance, the Localization industry lives on acronyms. MT, TM, LSP, CAT, TMS, IT (not that IT), WTT, LAP, all have me flexing my AMM...Acronym Memorization Muscle.

This is a skill I honed during my years at Marketo, an Adobe Company. The use of terms which appear to be the same, but are actually very different, is also a thing in Localization. Do you know the difference between Globalization, Localization, and Internationalization? Right. I will soon enough. And there is the familiar challenge of small teams in large Enterprise organizations being asked to accomplish massive bodies of work. Helping small teams accomplish big results is why Automation SaaS exists and the Localization responsibility is riddled with these small teams and individuals.
Marketing Automation has helped Enterprise organizations saturate English speaking markets with relevant content but the Global motion is tricky. Translation is easy. Localization is hard. Small skillful brush strokes of tone, dialect, and context are required to keep your messaging on point as it wraps around the world.
While Managing the Strategic Accounts team at Marketo I witnessed nothing short of Magic as small teams leveraged Automation, and their own creativity, to earn a seat at the BKT...Big Kids Table. That's the table where revenue goals are handed out and promotions are awarded. I'm pumped because Cloudwords is a solution that helps small teams generate big Global revenue. And like Marketo, who doesn't create your marketing plan and SalesForce who doesn't do your actual selling...Cloudwords doesn't offer translation services...instead we are laser focused on Automation that generates Revenue.

A pure SaaS solution designed from the ground up to make life easier for the poor souls in your company responsible for accurately Localizing 300 assets into 28 separate languages...every month. Microsoft gets it. Amazon gets it. Google gets it. I'm starting to get it. Localization at scale is hard, but there are big revenue gains to be had in the smallest improvements to the process. With nine years experience as the world's only LAP, our solution makes LOC improvement possible and, OMG, I'm stoked to be part of the newest phase of Cloudwords.


Steven Sakadales
Head of Global Customer Success
Cloudwords