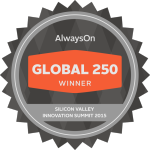 Cloudwords' translation automation platform helps companies identify new revenue opportunities and grow global market share, and we're proud to again be included among the leading global innovators—some of which are also our customers!—whose game-changing approaches and technologies are disrupting markets worldwide. We're honored to be recognized by AlwaysOn as a disruptor in our industry and to once again be named one of the AlwaysOn Global 250 winners for the second year in a row.
We built our platform to meet the needs of companies who demand a more strategic approach to execute the localization of marketing content in order to compete on a global scale. We're disrupting an industry that has traditionally been relegated to using old school approaches to manage the translation process—email, Excel, FTP sites—if you're still using these tools to manage the localization of content, you're probably not moving at the speed your business needs to move to get content to market. And if companies aren't effectively reaching and engaging global markets before their competitors, they're missing significant opportunities for growth and revenue.
What are the key components of Cloudwords' translation automation platform?
• Cloud-based, pure SaaS solution that is centrally hosted;
• Agnostic to translation service providers – you can use your preferred vendor, or select a new one from our marketplace;
• Simplifies translation review and approvals;
• Connects automatically to existing marketing and content systems;
• Creates all translation in deployment-ready, cloned assets;
• Supports project management, collaboration, content workflows;
• Eliminates duplicate translation costs;
• Includes analytics of translation spend, efficiency and ROI—regionally and 
globally;
• Reduces risk with an audit trail of reviews and approvals; and
• Enforces brand consistency.
According to AlwaysOn, "The winners are writing a new chapter in the Global Silicon Valley, as they embark on new endeavors and define the next-generation of technology." Yes, that's what Cloudwords strives to accomplish. Are you ready to join us?