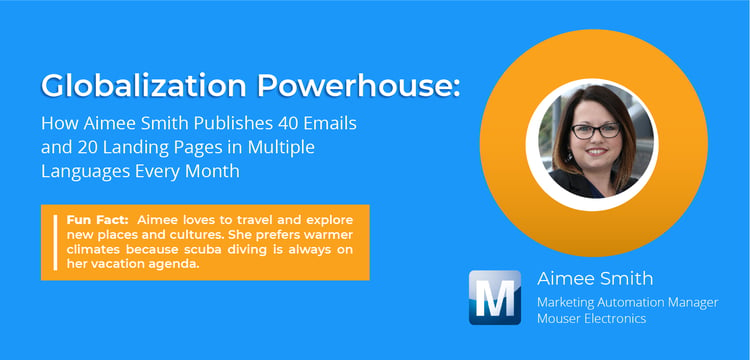 Once again, we had a stellar Ask Michael Anything webinar with Cloudwords CEO Michael Meinhardt and the Globalization Expert, Aimee Smith of Mouser Electronics. Michael and Aimee chatted about the absolute need, benefits, and results of globalization automation in International Business.
Click here to watch Michael and Aimee answer a live Q&A about their experience and their advice with localization.
As the sole marketing automation manager at Mouser Electronics, a global distributor of electronic components, Aimee Smith juggles marketing content for 27 global locations and 19 languages. For her, globalization automation is an absolute must-have for working with marketing teams and customers worldwide. "It's helped us localize and get the right languages to our customers, to make sure our customers get the sense we are a company right in their backyard," she says. "Even though our corporate headquarters is in Texas, we want our customers to have that same feeling that if they're in Munich, they're going to get good service, because they've got things in their language."
Before Mouser began integrating marketing automation tools into their communication processes, Aimee says translations were slow and very manual. "We previously had to pick and choose what languages we needed to translate in, and decide where we were going to get the biggest bang for our buck in translating for each region." Issues such as the inability to track project status, lack of clarity on translation investment and spending, and cut-and-paste translations all contributed to Mouser's dire need for an automated process. As Mouser began investing in marketing automation tools, Aimee explains that they became a Cloudwords customer early on due to the integration functionality.
Now, six years later, Mouser has shrunk their approval timeline, reduced their marketing costs, and exponentially increased output. "[Mouser] execute[s] anywhere between 40-50 emails per month, with about 20 landing pages that go with these different campaigns," Aimee says, "Before Cloudwords, we were looking at three weeks to go through a translation process— trying to send these emails back and forth, find your translator, get it reviewed— well, now, our process is streamlined; the max is six days."
Ultimately, Aimee champions the belief that the best way to connect with customers is through content localization. "We found that if we can localize it, make it in their language, make them feel like you're listening to me— you can help me speak my language— then you're going to get better engagement."