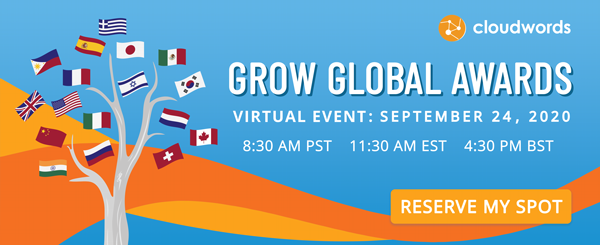 As Cloudwords commemorates our tenth anniversary, we are bringing together our global community of customers and partners to celebrate! On September 24, Cloudwords will hold our first-ever Grow Global Awards and bring together industry leaders and rising newcomers from all around the world in a truly global jubilee.
Our CEO and founder, Michael Meinhardt will host this virtual event, and announce the winners of the eleven awards we will be presenting to individual trailblazers, outstanding marketing teams, and stellar localization service providers. Watch our social channels to learn who are the finalists of our five team categories: the Global Scale award, Rising Star award, Revenue Impact award, Operational Excellence Award, and Global Excellence award.
Then, we'll move to a fireside chat with Rob Bernshteyn, Chairman and CEO of Coupa Software. Rob will share insights from his new book, "Smarter Together: How Communities Are Shaping the Next Revolution in Business," And, all attendees will receive a copy of the Smarter Together book!
After Rob's presentation, Mariana Prado Cogan, SVP of Marketing at PTC, will talk about marketing and the globalization industry, especially her years of experience with global marketing and dedication in transforming PTC's digital outreach. Mariana will also advise how to organize internal marketing teams around globalization goals, discuss lessons she's learned over the years and preview her future goals for global marketing.
From the whole Cloudwords team, we want to thank you all for your contributions and partnership as we traveled the path from beginning as a rising startup to becoming the premier globalization automation platform. The past ten years have been an amazing journey for us. As we look back to where we began, the growth that we, our customers, and our partners, have made, is honestly remarkable. We'll definitely be cherishing the lessons we've learned, and memories we've made as we move forward into a new decade.
We're counting down the days until September 24th. Register for the Grow Global Awards. And keep an eye on our social media channels, we have more fun announcements and surprises waiting in the wings.