4 min read
"Inspiration in the Nation" was Marketo's theme for the 2015 Summit, and wow, did they deliver! From the early morning fun run, to educational sessions, happy hour networking, and inspiring speakers, kudos to Marketo for putting on a phenomenal user conference. Cloudwords would like to thank both our customers and new friends for stopping by our booth to say hello.
Continue Reading
2 min read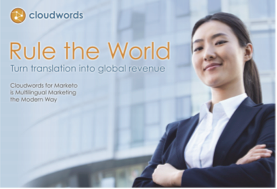 The Cloudwords team is gearing up to showcase our marketing globalization platform, connect with customers, and make new friends at the Marketo Marketing Nation Summit next week. Our team of marketing and localization experts will be on hand at booth #506 to provide globalization tips, tricks and best practices to help businesses translate content easier, faster, and more cost-effectively with Cloudwords' award-winning integration with Marketo. Here are five reasons you should stop by and say hello, hola, bonjour, hallo, ciao…

1) If you use Marketo and need to localize content and campaigns for international markets, Cloudwords is the ONLY technology integrated with Marketo for automated translation. Trust me, you will be amazed at how much easier the translation process is when all you have to do is "click" to move content from Marketo, into Cloudwords and off to your preferred translation vendor.
Continue Reading