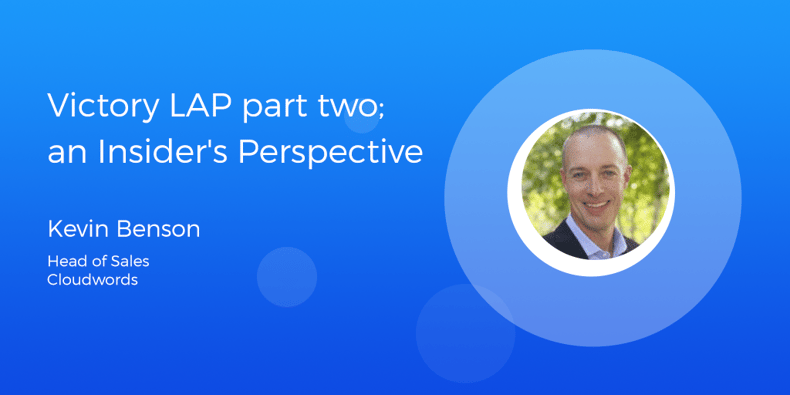 After nearly a decade in the localization services arena, I'm excited to move to the technology side of the industry and provide an "insider's perspective" on Steven's colorful Victory LAP blog posted last week.
As a customer advocate, passionate about creating the right solution for each client, my ability to align true customer-focused solutions with my sales teams has always been contradicted by the need to drive services revenue as an LSP. Enter Cloudwords and our services-agnostic approach to enhancing customer experience through connectivity, via our Global Demand Automation Platform!
It's been readily apparent to me for a number of years that a platform like Cloudwords bridges a critical gap that isn't covered by traditional service providers or TMS technology. Focusing on the Experience and ROI, through direct connectivity to enterprise content platforms, aligns to the goals of global corporations. The ability to reach global markets quickly is critical to driving revenue growth, but isn't effectively addressed by legacy service provider portals and TMS's which focus on services and down-stream localization processes - the "black-box" in global marketing initiatives.
Eliminating the need to leave enterprise platforms to launch campaigns and content is critical to accelerating brand awareness. Being able to initiate multilingual projects, campaigns, and assets quickly, track progress, and continue with other mission-critical marketing initiatives insures in-market momentum is maintained. Cloudwords is dedicated to allowing marketers to position sales campaigns and content and shift focus to time-to-revenue.
Cloudwords' continuously developed platform enhances user experience and allows companies to focus on their brand rather than the process. Cloudwords' Experiences provide integrated visibility and control of content assets directly from the platforms designed to increase global brand awareness. In a rapidly expanding service industry, technology is critical to driving global success and increasing product visibility while decreasing timelines. It's no secret; traditional services-based providers consider technology investments as a short-term focus and a way to get to the "win" of selling their core services.
I'm excited and proud to be joining the team at Cloudwords, and look forward to working with clients on a best-of-breed approach. Helping each client architect the right solution, focused on a combination of technology to complement their preferred service partners, is the passion that has driven my continued involvement in the localization industry!
Kevin Benson
Head of Sales
Cloudwords