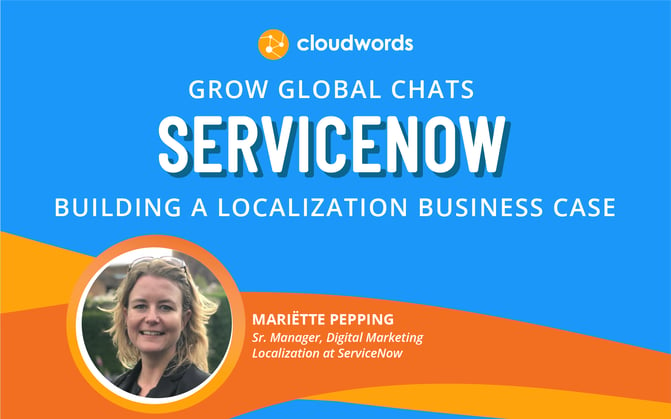 The January Grow Global Chat starred Mariëtte Pepping, Sr. Manager, Digital Marketing Localization at ServiceNow! Mariëtte has worked 10+ years in digital marketing and is a strong localization automation advocate. Throughout her chat with Michael Meinhardt, CEO and founder of Cloudwords, Mariëtte explains 3 main tips she has learned from her experience around globalization automation. In case you missed this GGC, click HERE to watch the replay!
Localization Business Plan Framework:
Create a Localization Hybrid Model: At ServiceNow, Mariëtte strives for a hybrid model between content creation and leveraging that content locally.

This model allows international regions to be involved with local review process

Workers living in the country that is being localized are closest to customers - they will know the customer the best!

Localizing the content will create an easier workflow for these regions so they don't have to start from scratch
Country Experience: Mariëtte emphasizes the importance of prioritizing the country experience in addition to the language experience when translating content.
Misconception around translating one language the same way for different countries (U.S. content should not be the same as U.K. content)

Same-language speaking countries markets and cultural experience differ so translations should reflect these differences
Gain Internal Alignment: Mariëtte emphasized the importance of gaining internal business alignment and shared her very own "Business Plan Framework" deck.
Explain localization terminology so everyone is on the same page
Tie it all back to revenue - show data that fiscally supports localization efforts

Highlight revenue from international markets
Tie back how you can reach revenue goals through localization
Emphasize an automated process is easier and more effective for international teams
Outline the goal of content localization and what the creation process looks like
Remind the team that localization improves the customer experience and will create a stronger relationship with international markets and improve net promoter score!
Download Mariëtte's "Localization Business Plan Framework."
Cloudwords loved having Mariëtte on the Grow Global Chats and can't wait to see all that she and her team will continue to accomplish.
Watch the replay HERE.