Grow Global Awards Recap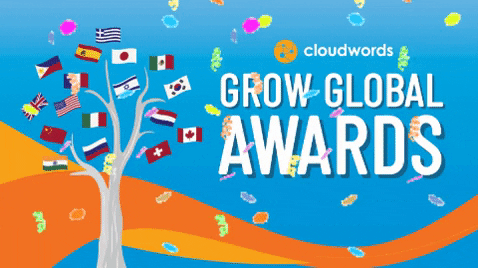 Yes it is time to Celebrate! The Grow Global Awards brought together the top companies in the world who are rocking the international market. Grow Global showcased how powerful the globalization automation community is and all that our Cloudwords customers are achieving. We loved hearing from our amazing guest speakers Rob Bernsteyn, CEO of Coupa and Mariana Prado Cogan, SVP Marketing for PTC in addition to our Grow Global Awards host, Michael Meinhardt, CEO of Cloudwords. The virtual event covered how to prioritize community intelligence as a business standard, what global digital business processes should look like, a Cloudwords road map, and all of our outstanding award finalists and winners.
Click to watch the event replay and see the Grow Global slide deck here!
The Grow Awards kicked off with Michael Meinhardt, CEO of Cloudwords, walking through the last ten years of Cloudwords' journey, in addition to a ten year Cloudwords roadmap. Michael explains that in the last ten years Cloudwords has seen our positive impact by empowering customers to meet their global financial, quantity and speed benchmarks. Next, Michael introduced that Cloudwords has many product advancements including AI integration, higher scalability, and exposure to the world's largest database.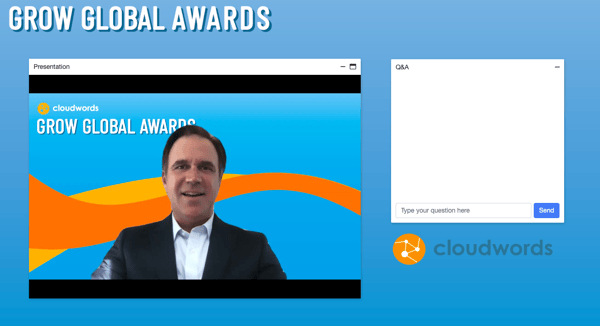 Next up was keynote speaker, Rob Bernsteyn. Rob highlighted how important it is now, more than ever, for companies to be looking out for their customers' and partners' interests with a community mindset. Rob compares a neighborhood watch to the type of community that needs to be cultivated in a world with so much unpredictability. He believes businesses should lean on each other by sharing insights with each other, in addition to directly communicating with customers what is in their best interest. Rob concludes that having a community-driven business and being exposed to more perspectives and resources leads to gaining a competitive advantage by becoming more operationally efficient.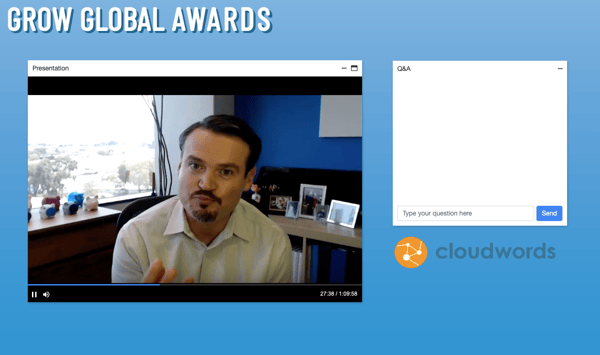 Afterwards, Mariana Prado Cogan took the stage and tapped into her personal journey with PTC becoming a global powerhouse in addition to three key elements she believes is essential in running a digital global process. Mariana shares that she was born in Mexico and grew up in Japan, and believes her international exposure has contributed to her global awareness and success in international business. Mariana then explained how PTC started to expand into each global region and what this process looked like. Lastly, Mariana presented and dove deeper into describing the three key elements to running a digital process:
1) Be customer centric
2) Align with the business strategy
3) Scalability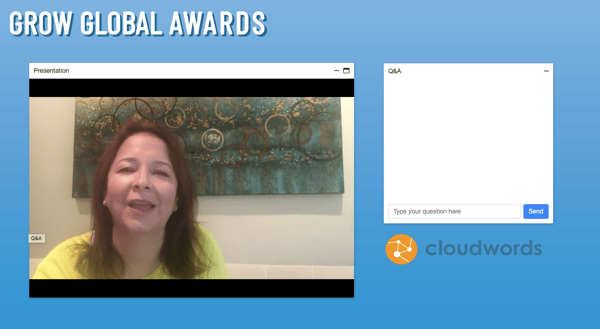 Finally, Michael Meinhardt announced all of the Grow Global Award winners! Huge congratulations to all the finalists and winners below!
Team Awards Winners:
Global Scale Award: Delivers impact on a global scale
Winner: Microsoft
Finalists: Microsoft, Agilent Technologies, Mouser Electronics
Rising Star Award: Showcases speed to value with globalization automation
Winner: Splunk
Finalists: Splunk, BNY Mellon, Southco, and Sandvik
Operational Excellence Award: Change maker in driving speed to impact
Winner: PTC
Finalists: Cisco, Aruba Networks, Armstrong, PTC
Revenue Impact: Turns global automation into high revenue results
Winner: NVIDIA
Finalists: Microsoft, F5 Networks, NVIDIA, and Power Integrations
Global Excellence Award: High impact team delivers combination of scale, speed, and revenue impact globally.
Winner: Google
Finalists: Amazon, Google, UL, Merck
Individual Awards Winners:
Global Fast Mover Award: Marketing Operations Leader driving Automation Globally
Winner: Aimee Smith
Global Leadership Award: Marketing Executive Leader driving Global Impact
Winner: Melinda Hansell
Partner Award Winners:
Outstanding EMEA LSP Award:
Winner: RWS Moravia
Finalists: Cisco, Aruba Networks, Armstrong, PTC
Outstanding Global LSP Award:
Winner: Lionbridge
Finalists: Lionbridge, RWS Moravia, and Welocalize
Outstanding APAC LSP Award:
Winner: EC Innovations
Finalists: Kawamura, Pactera EDGE, and EC Innovations
Outstanding Systems Integrator Award:
Winner: Accenture

Thank you again to all of our amazing speakers, customers, and partners who came to the Grow Global Awards! Congratulations to all of our award finalists and winners. Watch the event replay here.