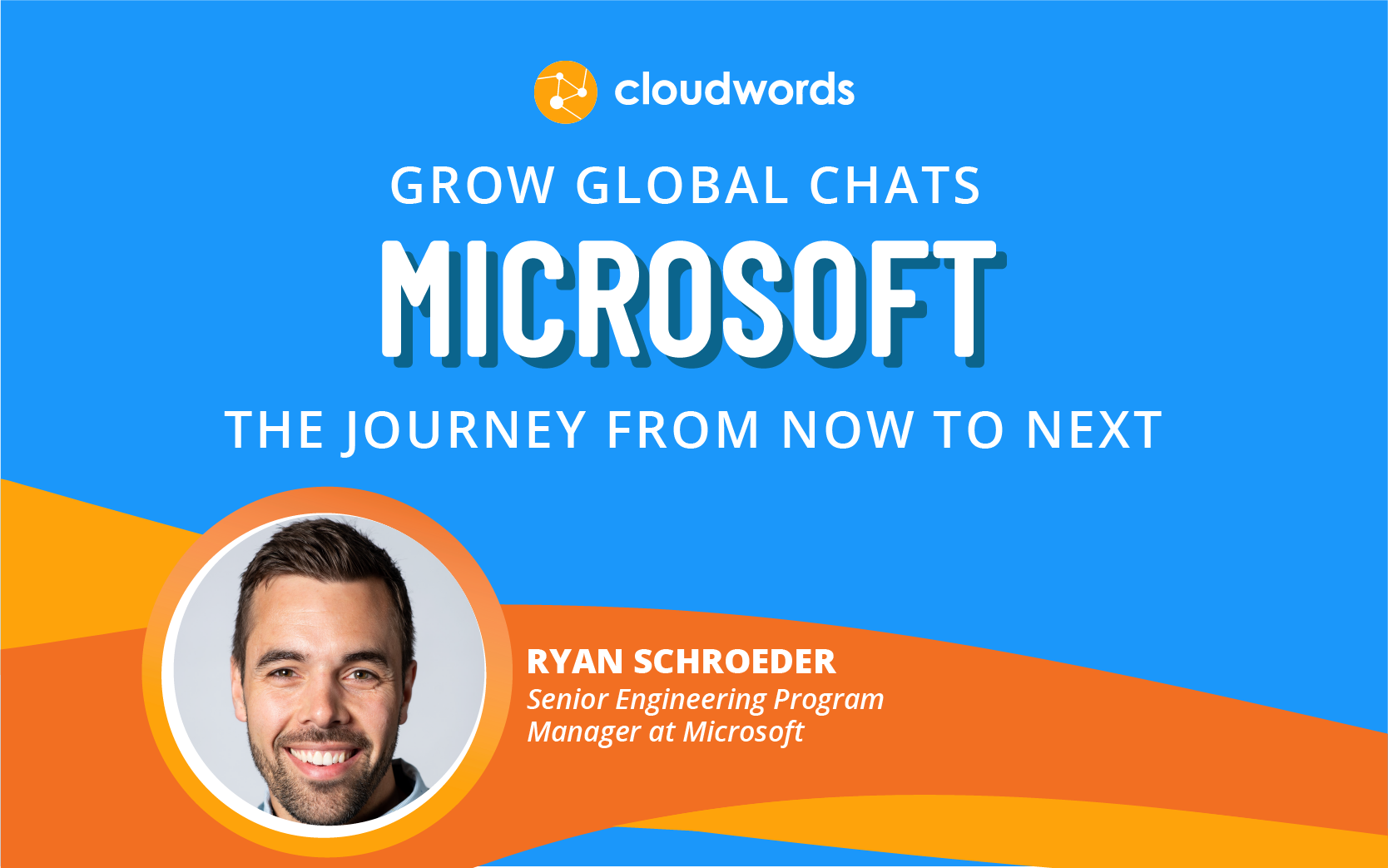 Recently Michael Meinhardt, Cloudwords CEO and founder, and Ryan Schroeder, Senior Engineering Program Manager at Microsoft, sat down for a Grow Global Chat. Microsoft is the 2020 Cloudwords Global Scale Award winner, with Ryan and his team setting the tone for localizing vast quantities of content at high speeds. Ryan shared his experience with roadblocks, key solutions, and results from Microsoft's localization automation journey.
Roadblocks prior to Cloudwords:
Could not accurately scale content around the world in a timely fashion
Manual process allowed small mistakes to break down workflows
Slow time to market - translated content became outdated
Ryan explained that the "Global demand center team was in a position where it was taking up to 6 months to launch a new campaign… Localization was slow as well and it was painful. So there was absolutely no agility in the content that we were delivering to our customers. Review process was a pain point."
Due to how fragile the localization process was, Ryan's team needed tools that are efficient, scalable, and reliable.
Key Solutions:
Implemented Cloudwords for a centralized and automated localization process
Standardized on Marketo platform
Shifted content to become neutralized so marketers could easily globalize content
Secured executive sponsorship around localization efforts
Created strong partnership with LSPs
Results with Cloudwords:
Supports 100 markets all over the world
Manages workflow of content requests in a predictable matter on a "sprint cadence"
Created a more cohesive brand/voice that accurately represents Microsoft
Obtained 100% field review participation rate - WOW!

"Everybody is in on the localization platform … We get basically a 100% participation on our field reviews through the global demand center."

Increases engagement with local field level by content going through central system
Produces a more efficient and centralized review process with a faster content production time
Cloudwords loved having Ryan on the Grow Global Chats and we can't wait to see all that Microsoft and Cloudwords will accomplish together in the upcoming years. Make sure to watch the GGC full replay to learn about Microsoft's localization journey from now to what's ahead.