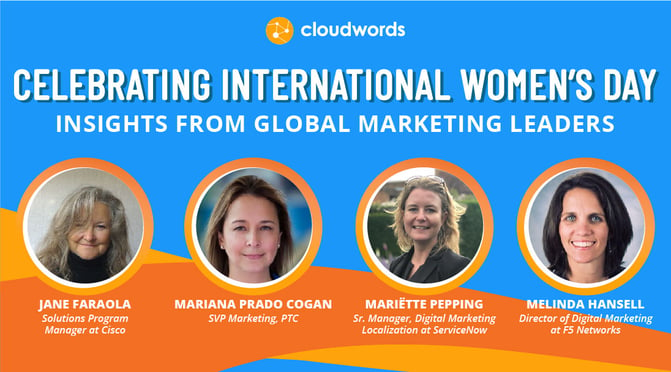 Happy International Women's Day! Today, we want to celebrate all the female leaders we know who are breaking new ground and bringing their companies to greater levels of success! We hope you'll join us in congratulating them.

Mariana Prado Cogan, SVP of Marketing at PTC.
With her persistent push to grow bigger and better, Mariana Prado Cogan's leadership has sped up PTC's marketing pipeline, allowing PTC to expand their marketing efforts into new regions. After Mariana and her team transformed their 12-week, manual localization process into a fully automated process, she and her team are now able to leverage their new 2-week publication speed to launch 20 emails in 7 languages every month. It's an achievement that truly befits the director of the team that won our Operational Excellence award. Watch Mariana's fireside chat to learn more about the three elements she has learned are key to building a digital global strategy.
Mariëtte Pepping, Sr. Manager of Digital Marketing Localization at ServiceNow
Spearheading the localization effort at ServiceNow is Mariëtte Pepping, who has been tirelessly expanding her company's marketing reach to now support 22 languages worldwide. What we especially admire about Mariëtte is her relentless dedication to driving alignment within ServiceNow, by constantly communicating about their process so every team understands their goals and action items. Mariëtte also supports fellow marketers embarking on their localization journeys, by helping to build a community where marketers can share their experiences. Watch Mariëtte talk about internal alignment, and download her slide deck explaining localization now.
Melinda Hansell, Director of Digital Marketing at F5 Networks.
The winner of our Global Leadership Award, Melinda Hansell recognized F5's need for localization, due to their lack of clear oversight regarding the process. Under her guidance, F5 created a role specifically for managing localization automation and hired more in-country consultants. Michael Meinhardt, CEO of Cloudwords, said of Melinda during the Awards, "[Melinda] has absolutely reimagined how [F5] has gone to market globally, both in EMEA and APAC, and she's definitely passionate about bringing optimization and automation to her entire MarTech stack." Hear from Melinda herself about F5's localization evolution.
Jane Faraola, Solutions Program Manager at Cisco
Jane Faraola leverages localization automation to translate Cisco's content into 30 languages. Thanks to Jane's commitment to demystifying localization automation and building internal alignment, her team is able to handle a workload that has grown by 95%, and increase their number of supported languages with a smaller budget and staff. Check out Jane's Grow Global Chat to learn how she approaches internal alignment, and the metrics she thinks are most crucial for localization automation success.