The Cloudwords team is gearing up to showcase our marketing globalization platform, connect with customers, and make new friends at the Marketo Marketing Nation Summit next week. Our team of marketing and localization experts will be on hand at booth #506 to provide globalization tips, tricks and best practices to help businesses translate content easier, faster, and more cost-effectively with Cloudwords' award-winning integration with Marketo. Here are five reasons you should stop by and say hello, hola, bonjour, hallo, ciao…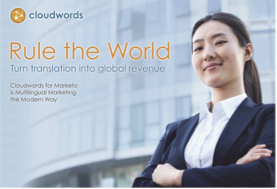 1) If you use Marketo and need to localize content and campaigns for international markets, Cloudwords is the ONLY technology integrated with Marketo for automated translation. Trust me, you will be amazed at how much easier the translation process is when all you have to do is "click" to move content from Marketo, into Cloudwords and off to your preferred translation vendor.
2) If you manage your company's content localization process and are tired of bottlenecks causing delays during the final review stage, come learn about Cloudwords' newest capability: In-Context Review. We'll show you how quickly reviews can be completed when all collaborators are able to access translations, make edits or suggestions directly in the format the content appears in (landing page, email template, etc.), and see how edits affect the final layout. So. Much. Faster.
3) If you'd like to hear first-hand how others have gotten great at global marketing, join me on Tuesday, April 14 at 1:00pm in room 3020 as I interview Debbie Lakatos, Senior Demand Generation Manager at Hach Company (a finalist for Marketo's "Globetrotter" Revvie Award!), and Steven Lane, Director of Brand Communications at Sherwin-Williams (one of the most experienced global marketers you'll meet). Debbie and Steven will share how they roll out marketing programs and campaigns quickly and easily in the native languages of their target buyers and build international brand presence by leveraging the combined automation power of Marketo and Cloudwords.
4) If you'd like to test whether you are ready to #RuleTheWorld, visit our booth to take a quick quiz about the importance of language to global success. You may even win some real foreign currency!
5) If you want to see what a real Revvie Award looks like, stop by and check out ours – Cloudwords won the 2014 Marketo Revvie Award for the Platform Innovator of the Year for our unique and groundbreaking integration capabilities with Marketo, delivering unparalleled multilingual content management for all marketing assets. Yeah, we're proud. Oh, and several of our amazing customers are finalists for a Revvie Award this year. We're proud of them, too.
So stop by, say hi, and join the global conversation! Make sure to follow us on Twitter @CloudwordsInc and use the hashtags #ruletheworld and #MKTGnation to tell us how you're reaching your multilingual audiences.
Marketing Nation, Cloudwords is ready to help you rule your world -- bring it on!