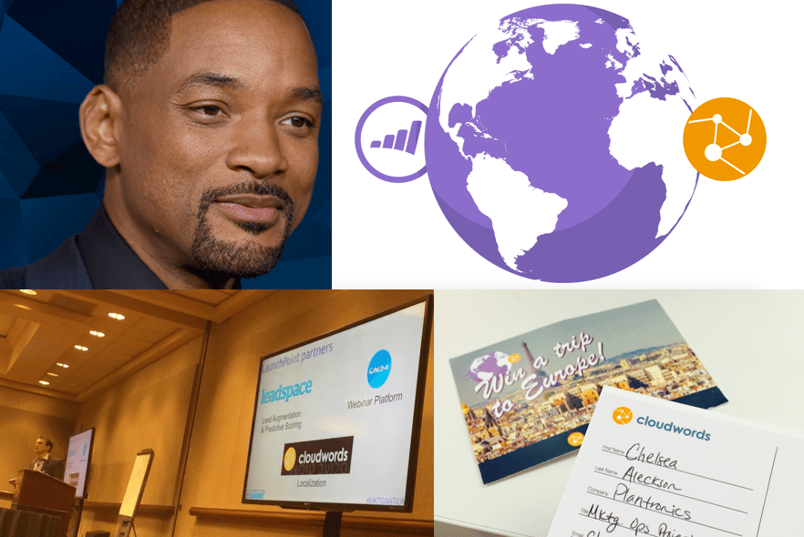 At Marketo's Marketing Nation user conference, keynote speaker Will Smith's advice was to always ask, "What can I do to help you succeed?" versus more selfishly thinking, "What's in it for me?" His message resonated with me as I spoke with our customers at the event, reinforcing my sentiment that marketers are generally encouraging of their peers, and happy to share how they've found success, even when they have to first explain how they failed.
The opportunity to spend four days speaking with our customers and learning more about how they use Cloudwords was invaluable. Moreover, the opportunity for customers to speak with each other was beneficial to them because they garnered additional insights about how the platform is leveraged, and had a chance to share global marketing tactics and tips that can only be discussed when both parties use the same technology to address similar challenges. Namely, how to speed and simplify the localization process in order to go-to-market faster.
Launched in 2013, Cloudwords' integration with Marketo is one of our most popular connectors and used by many of our customers who market to global audiences. In fact, global-facing companies like Microsoft, Hach Company, CA Technologies, and Pentaho presented informative sessions at the Summit this year, sharing how they've built a technology stack that incorporates Cloudwords as the "global piece" that enables them to create and deliver multilingual campaigns at scale.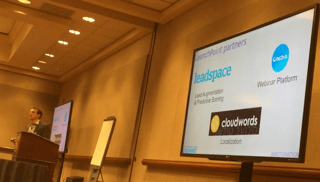 "Cloudwords plugs into Marketo, pulls the assets and puts a workflow around it, then sends content to your translation provider to ensure it's correct the first time and pushes it back directly into Marketo… One of our favorite technologies that helps us operate at the scale that we do… " -- Charles Eichenbaum, Microsoft, during his session 'Building in Marketo for Global Enterprise Scale'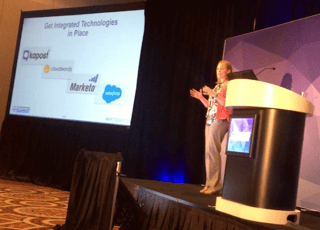 "Cloudwords has been a huge advantage for us in managing the actual translations… A great tool… wonderful to work with, they've really partnered with us, listened to what our needs are when it comes to localization so that they're making our process more effective, managing what could be an insurmountable number of assets, and helping us keep things contained and manageable." -- Becky Bradberry, Hach Company, during her session 'Getting Your Global Marketing Teams to Work as One'
We truly appreciate the support of our customers and their willingness to their share experiences. These sessions also sparked a dialogue among customers and other attendees about how speaking to your audience in their preferred native tongue is key to generate demand in regions beyond our borders. But in order to accomplish this task at scale, integration between your marketing automation platform, such as Marketo, and a translation automation platform, like Cloudwords, is essential.
At the Cloudwords booth, visitors had the chance to submit their names in a raffle to win a trip to Europe. I'm pleased to announce the raffle winner: Chelsea Aleckson from Plantronics! Congratulations, Chelsea, I hope you enjoy your vacation!
For more information about how Cloudwords accelerates global go-to-market timelines for Marketo users, and to start a free trial, visit https://www.cloudwords.com/marketo. Let us know how we can help you reach your global marketing goals.