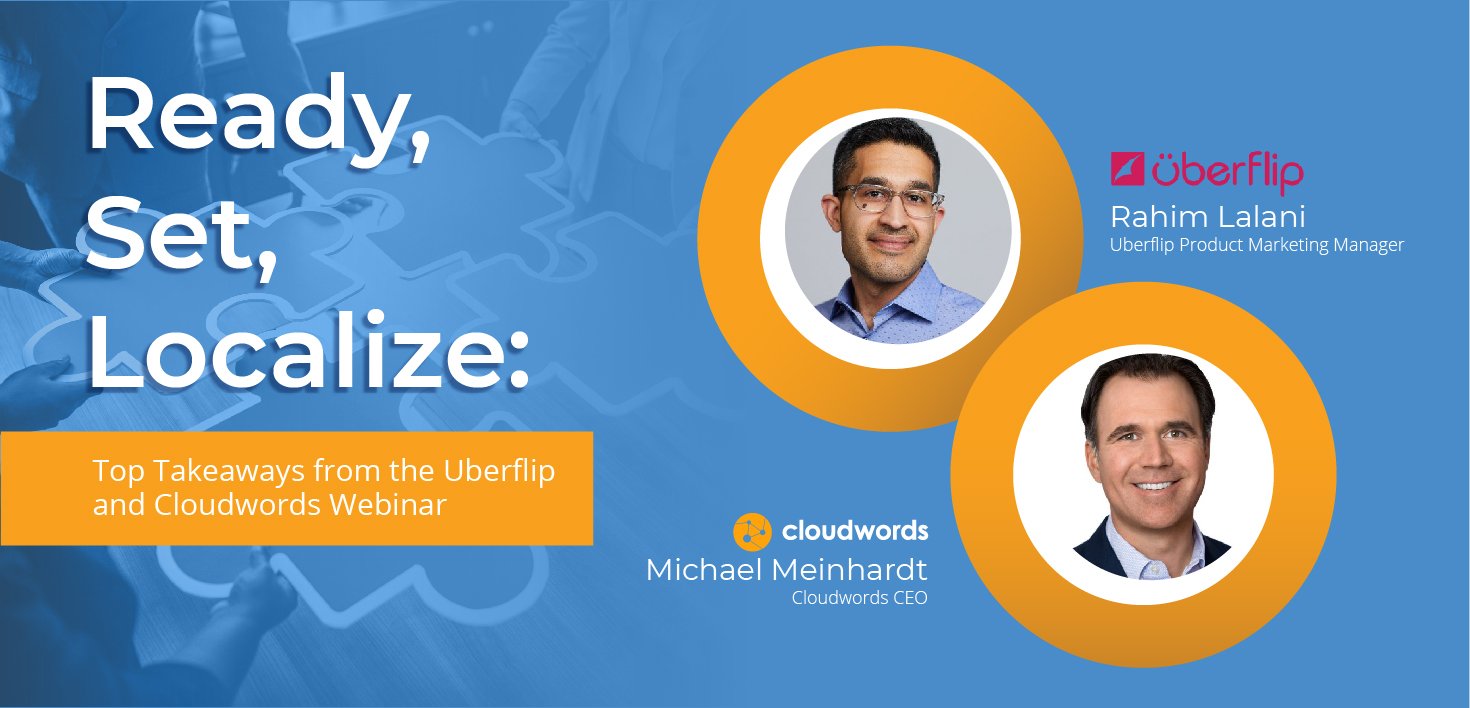 Recently, Cloudwords CEO Michael Meinhardt and Uberflip Product Marketing Manager Rahim Lalani hosted a webinar to introduce the new Uberflip-Cloudwords integrated solution, which allows Uberflip users to seamlessly manage the localization process through the Cloudwords platform, before smoothly moving back to the Uberflip platform.
The Uberflip-Cloudwords experience will make the localization process much more simple. "A lot of companies we talk to, perhaps even Uberflip customers prior to obviously having this great integration with Cloudwords, were living in a copy and paste world," Michael says. "Literally copy and pasting out of Uberflip, which frankly, can be quite slow and tedious without automation baked in." With the Uberflip-Cloudwords integration, all of the localized content is automatically synced from Cloudwords to Uberflip.
As Cloudwords brings automation to the table, customers will also find that their translation management process can be easily handled within one system, including selecting their preferred translation resources, discussing project specific detail, and reviewing localized content. "I'm sure we're all very familiar with the multi-tab spreadsheets, trying to track a global product launch or a global marketing launch, and ultimately communicating and engaging with those people through email or various phone calls," Michael says. Cloudwords' solution completely streamlines the process.
Rahim says the challenges of localizing content were addressed by developers with thoughtful solutions in the Uberflip-Cloudwords integration. "I think [these challenges are] really the driving force why some of the features we've created in the integration are so important from a strategic perspective," he says.
A successful global content strategy requires making localization a priority, as Michael says. "These global brands absolutely view localization as a strategic imperative. It's thought of at the beginning of their process, not at the end. These companies also understand that their future customers are 8 times more likely to engage with them when they see their content in their native language."
Furthermore, integrating automation allows global companies to exponentially increase the speed at which they publish and localize content. "We have customers today that are contemplating 50-60 different languages simultaneously, so that's a ridiculous scale, and now we're seeing companies getting into the 200-300 locale range," Michael says. "So we're talking about hyper specific personalization at scale, and those are the things globalization automation can help you achieve."
The future of Cloudwords and Uberflip's partnership looks bright, as Michael says the integration will help more companies expand the reach of their content engagement in international markets, and promises to continue building on the integration in the future. "As we continue to evolve, as a platform and integration, we'll absolutely be reaching out to our joint customers that are leveraging the automation and finding ways to continually improve the integration we've built today. So, I'm very excited about what we have so far, but certainly encouraged with where we're going with it in the future as well."