Email Campaigns in Your Customer's Language Just Got Easier: New Functionality from Cloudwords
Marketing automation technology has changed the way marketers engage customers, allowing users to nurture leads through automated campaigns. Email marketing, for example, is one of the most powerful tools in a marketer's toolbox, and by using marketing automation software, marketers can make email marketing more effective by customizing the messages that individuals see to help customers move through the buying process.
However, prior to Cloudwords' integration capabilities with marketing automation platforms, marketers were still only able to send email campaigns in one language. There was no way to easily and efficiently translate and localize email campaigns to meet the different language needs of their global audiences—a crucial step in marketing personalization. Localized content makes a significant impact to customer buying preferences. According to one study from Common Sense Advisory, 75 percent of consumers are more likely to choose a product with information in their native language.
Cloudwords Automates Creation of Multilingual Campaigns
To accelerate marketers' ability to localize email campaigns, Cloudwords provides native integrations with leading marketing automation platforms, making it easy for marketers to localize content—with just a few clicks, Cloudwords imports all selected content, kicks off necessary localization workflow processes, and returns localized content into the right templates—no more time-consuming, error-prone cutting and pasting.
For customers using our native integration capabilities with leading marketing automation platforms, users have different options to ensure the right content is delivered to the right audience depending on your needs:
Option 1
Ability to Clone Programs in Marketo Speeds & Simplifies Process
Although marketers are now able to deliver localized email campaigns to audiences in different regions, users still have to spend time creating separate campaigns for each specific market—a manual, time-consuming process. To solve this pain point, Cloudwords recently introduced new functionality to its Cloudwords-Marketo integration to allow users to "clone" pre-approved programs.
With this capability, users can significantly reduce setup time for localized marketing campaigns—allowing marketers to create a single program, easily duplicate it, and make necessary adjustments for different markets. This feature is ideal for large companies with teams in different global markets who want to run and manage campaigns regionally. The clone program feature automates the localized campaign creation process for each region, but provides flexibility to each team to manage the execution and measurement of their individual campaigns.
Option 2
Taking it a Step Further: Dynamic Content & Segmentation
While cloning a single campaign is a great option for enterprise organizations with regional teams who can make the necessary changes required for each region, this strategy may not make the most sense for small and mid-size organizations with a central marketing team. For centralized teams who want to implement a single campaign, but still need to reach audiences in more than one language without having to create a different program for each market, dynamic content and segmentation is a perfect solution.
In Cloudwords' most recent product release, we introduce support for customers who use Cloudwords for Marketo and Cloudwords for Oracle Eloqua to easily create and deliver targeted and dynamic content in emails and landing pages in the correct language.
Using dynamic content allows marketers to create one campaign and target what appears for specific groups of people based on the segmentations used to associate them. Segmentations are the common attributes (demographic, psychographic, and geographic) shared by the leads you're trying to reach with email campaigns and landing pages. When creating a campaign, marketers simply specify in the database which customers should receive which translated content based on their location. For example, a team can create and run one campaign for all regions, but based on the segmentation data, easily ensure that customers in France will receive the email localized for French with links to the French landing pages; customers in Germany will receive the German content, and so on.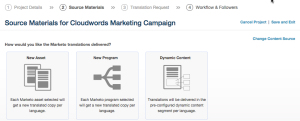 By leveraging Cloudwords with dynamic content and segmentation, marketers can deliver more meaningful engagement and experiences than ever before by ensuring audiences receive the content in their native language based on user location.
A Single Platform for All Content Localization
Cloudwords is the only solution that enables marketers to manage the localization of all marketing content in an end-to-end platform. We're always listening to our customers and responding to their needs in order to build on our platform and further help organizations optimize their localization experience. To learn more about Cloudwords for Marketo and Cloudwords for Oracle Eloqua, visit:
http://www.cloudwords.com/how-it-works/cloudwords-for-marketo/
http://www.cloudwords.com/how-it-works/cloudwords-for-eloqua/
If you're interested in learning how customers use Cloudwords to accelerate content globalization, check out some recent case studies at http://www.cloudwords.com/resource/video-case-studies.