Tired of Translation Review Headaches? Cloudwords' New "In-Context Review" Provides a Pain-free Process
Does this scenario sound familiar…? You manage your company's localization process, ensuring content is translated into all the different languages for all the markets your company does business in. One of your responsibilities is to ensure translation projects move along in a timely manner, so you keep tabs on which stage of the process projects are in, and make sure they are completed on time. Projects move along just fine until… the dreaded review phase. Suddenly, everything stalls because…
A.) Reviewers can't provide feedback because they can't login to access the content in your CMS. So you have to download it, save it to a different file type and send it to them. And do the reverse when it is returned to you.
B.) Reviewers copy and paste content into Word docs, but can't make edits because the file was a website landing page and it's difficult to identify where the changes are supposed to be made. The marked-up file that is sent to the translator is illegible.
C.) Reviewers make edits to the newsletter, but when it is sent back to you, you make the change but the necessary text changes completely alter the entire layout of the newsletter and no longer looks visually appealing, or even correct, requiring additional revisions.
D.) You receive the reviewer's edits, the translator's edits, and the marketer's edits, but you're not sure which of the multiple files is the most recent version and now you have to spend time consolidating all documents into one.
E.) All of the above.
What happens next? Your launch date has to be pushed back by a week or two just to get all the translations reviewed and finalized. Corporate is not happy.
Stop the Insanity
In spite of all the applications and software we use to streamline our work and personal lives, the localization industry has been the least touched by technology. Most organizations still rely on manual processes to manage, track and deliver localized content. Without a solution designed specifically to eliminate the road blocks in the translation review phase, bottlenecks are unavoidable – somewhere in the download/upload, copy/paste nightmare, errors will occur and unfinished translations will inevitably result in a delayed go-to-market launch date.
Launch Faster with Cloudwords' OneReview
Today Cloudwords introduced new capabilities to its OneReview feature designed to take the pain out of the translation review phase—literally and figuratively. Our new "In-Context Review" capability lets your reviewers view and edit translated content within the context of its final format—whether it is an email, newsletter, landing page, word document or webpage. By logging into Cloudwords, all users are able to access translations online, eliminating the need to download or copy and paste content from different files, and eliminating "version control" issues – too many documents being sent back and forth via email, making it difficult to track and know which is correct.
Review and Edit "In-context"
Most importantly, In-Context Review enables multiple collaborators to make necessary or suggested edits to the translated content, even if it's a webpage or an email. For example, in Cloudwords, a translated email stored in Marketo will appear exactly like it would to the email recipient – users are able to see how it's laid out, and when they edit the copy, they'll see exactly how text changes will affect the lay out of the document – in context, in real-time. Further, Cloudwords' line-by-line interface shows both the source text and the translation side by side – so reviewers can see what it's supposed to say in English and ensure it's translated correctly in the new language.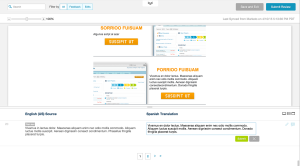 Often, the responsibility of reviewing translations for accuracy falls to the person in the company who happens to speak the language, which means it's not their primary job function and they don't have a lot of time to spend on tedious, time-consuming processes. Since reviewers are able to login to Cloudwords' easy-to-use interface to review, edit or comment on the translations, reviewers save a ton of time. Cloudwords makes the review process—and the reviewer's job—easier for everyone.
Higher Quality Translations + Faster Go-To-Market = Win-Win
Cloudwords enables collaborators and reviewers to all work in one single app, significantly increasing efficiency by eliminating the need to login to different platforms to access content, download/upload files, or copy/paste text out of templates and share it with others. By streamlining collaboration, automating the workflow, and providing a true in-context view, the potential for errors is greatly reduced and the quality of translations improves.
Moreover, the time savings are huge – OneReview and the new In-Context Review feature shortens the review process from days to hours, which means translations can be completed faster and content can be delivered faster – accelerating go-to-market launch timelines. Content localization is a critical step in reaching and engaging audiences in global markets and cannot be overlooked – companies that are able to localize content faster than their competitors can enter new and existing markets with in-language messaging about products and services, which means they can grow market share and revenue faster.
Don't let old, manual processes ruin your content localization. Get rid of review phase bottlenecks altogether by adopting industry-leading technology to manage, automate and streamline your translation project workflows. Try Cloudwords and our OneReview solution and say goodbye to review process headaches.
Check out this short video for a demonstration of this new capability:
[embed]https://www.youtube.com/watch?v=Jjd-A4xOX-4[/embed]