Going Global? Don't Forget To Pack These 6 Essential Items!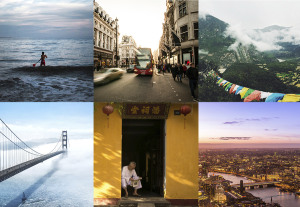 Less than 25% of your potential market can read this sentence! Don't let your content get lost in translation: go global. Marketing teams that expand content to markets across the world are able to seize more global opportunity and revenue for their companies. Those who don't may be left in the dust. And that's where translation automation platforms (TAP) come in.
Traditionally, translation and localization have been managed by using manual systems, and a network of vendors and internal staff. It takes valuable time and resources to complete, review and implement each piece of digital content, with no centralized way to track the workflow, cost or ROI.
Now, a TAP called Cloudwords streamlines the pursuit of a multilingual market with more conversions in less time and at a lower cost.
A global strategy is far more than the tools to implement it, however. If you are ready to take your company global, or expand into new markets, consider this checklist of six essential items:
___ Prioritized list of target markets: Which markets are most expected to contribute revenue? Which territories are up-and-coming? Continue monitoring potential markets to inform the next generation strategy.
___ Global editorial management: In order to fully leverage content effectively across the globe, audit your existing content to determine what is suitable for specific geographies. Research your markets to bring culturally and locally relevant content to each territory. And, back up the hypothesis with tracking and analytics.
___ Your road map: From content creation to localization to translation to review to deployment, map out your plan for each location. Translate language and content for each territory, and continue to monitor the market for any necessary changes due to localized trends or current events. Glocal is the most effective global.
___ A meeting time and place: With new hands on deck, plan ahead for longer lead times as new responsibilities and team structures are implemented. Your content needs to be translated into multiple languages and be applicable to the needs of different cultures, so plan lead times accordingly. Schedule regular – we recommend weekly – status meetings with the team to enable predictability and integration.
___ Use a globalization platform, aka TAP: To go global at scale, you need a TAP to make sure the lead times don't get seriously long, potentially busting your budget and missing deadlines. Cloudwords is cloud-based and integrates with nearly all other marketing platforms (Marketo, Wordpress, Hubspot, etc.), as well as your preferred translation vendors, either in-house, freelance, or from Cloudwords' own translator marketplace. Within our platform, translation management is centralized and yet flexible to enable consistent brand communications at a local level. Robust reporting is also included.
___ Translation memory: Translation memory is your company's approved library of all words and phrases ever translated. A cloud-based translation memory works across all your different translation agencies and allows for real-time updating and global access. This alone can save almost 20% of the time and effort associated with manual translation processes.
These six essentials will make a world of difference in your global marketing journey. They are a mix of strategy, execution and technology. With these items, your brand can go anywhere. We look forward to getting postcards from your favorite campaigns!